80
By deploying a complete chain of products dedicated to HDBaseT, ATEN goes on investing in this established standard to deliver more integrated solutions with presentation switches, multi-interface extenders and Power over HDBaseT.
Plants and installations, today, cannot disregard the HDBaseT standard. So, let's take a look at the vast ATEN proposal, starting with the VE2812AT model, a transmitter capable of carrying VGA (with audio) and HDMI signals up to 100 meters away on a single Cat 5e/6/6a cable. In addition to supporting 3D, Deep Color and lossless HD audio formats, the VE2812AT also guarantees supports long distance mode (up to 150 meters) via Cat 5e/6 cable with resolutions up to 1080p. The product also offers the PoH (Power over HDBaseT) function, thus eliminating the need for a dedicated power supply and reducing the necessary wiring. VE2812AT can also be used as a video switch, connecting two sources and distributing them on the same output.
Equally interesting is the ATEN VE3912T solution, an HDBaseT transmitter that extends 4K DisplayPort, HDMI or VGA video signals up to 100 meters over Cat 5e/6/6a cable. Supporting multiple video input formats and output resolutions up to 4K, the VE3912T delivers superior video quality for applications requiring conversion and extension of digital/analog sources. This transmitter is HDCP 2.2 compliant and meets HDMI specifications, including 3D, Deep Color and 4Kx2K video. The VE3912T is also powered via PoH, and has an auto swap mode, which allows you to automatically switch to a new connected source. VE3912T is particularly recommended for multi-input systems such as conference rooms, digital educational environments and, in general, wherever integration and simplification are required.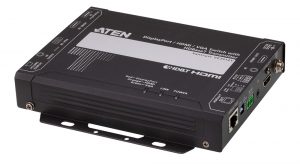 However, the HDBaseT universe by ATEN is not limited to transmitters, but extends to products such as the VE811R HDMI HDBaseT receiver, which guarantees an HDMI connection up to 100 meters always on Cat 5e/6/6a cable, supporting audio Dolby Digital 5.1 and DTS HD video signal at resolutions up to 4K, meeting the usual HDMI specifications: 3D, Deep Color, HD without quality loss and CEC pass-through. Featuring a very compact design, the VE811R receiver is easy to install in any position and is designed for the current needs of digital environments that require the extension of high quality HDMI video over long distances.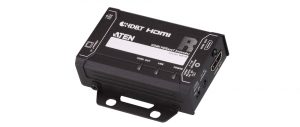 Among the other ATEN HDBaseT options, we then focus on VP1421, 4×2 True 4K matrix switch with scaler, DSP and HDBaseT-Lite. This product offers multi-format AV switching on one HDBaseT, two HDMI and one VGA input, one HDBaseT and one HDMI output, plus DSP audio support. HDBaseT-Lite technology extends uncompressed AV signal over IR, RS-232 and power over Cat 5e/6/6a cable up to 70 meters. Video quality is guaranteed: True 4K resolutions reach up to 4096×2160@60Hz, with 4: 4: 4 sampling in HDMI and 4: 2: 0 in HDBaseT, and HDR support. Finally, the integrated scaler supports video upscaling to 4K for display A and downscaling to 1080p for display B.
And we close this overview of the HDBaseT world by ATEN with VE44PB, a four-port power injector (therefore capable of serving up to four devices) for remote PoH or PoE power supply using Cat 5e/6/6a cables. It is a perfect product for implementation in professional AV systems and above mentioned devices, as it makes it possible to eliminate local power supplies for connected devices, reducing wiring and simplifying installation.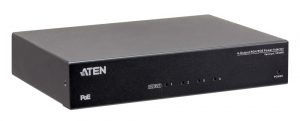 VE44PB offers power up to 15,4 W per PSE port, and thanks to HDBaseT connectivity is able to extend the HDMI connection over Cat cables without loss of image quality. The status LEDs on the front panel offer an immediate overview of the connected devices, for easy monitoring, and the usual compact design, typical of ATEN, allows easy rack placement, for considerable installation flexibility.
This post is also available in: Italian