128
The ATEN booth at ISE 2020 has unfolded all the application areas of the company catalog, with particular attention to StreamLIVE HD and triple display KVM switches
Where there is integration, there is ATEN. The company's catalog, in fact, covers a very wide range of needs and applications, and ISE 2020 has been a further confirmation. "We are very happy with the results of this event", said Kenny Wagemans, newly appointed ATEN's Product Marketing Specialist. "We have presented a number of solutions for all types of applications and customers, with very innovative products, and it's always interesting and instructive to talk with customers and share their case studies. Furthermore, we have carried out and continue to carry out our training activities, which we do not miss the opportunity to propose as integral part of the company philosophy."
In short, a more than positive balance. But let's take a look at the main attractions of the ATEN stand, starting with StreamLIVE HD, portable 1080p audio/video mixer, multi-channel, video switch, streamer, converter, video splitter and mixer audio, all in one product. The purpose of StreamLIVE HD is to allow easy transmission of HDMI video sources on the most popular sharing platforms: YouTube Live, Facebook and Twitch. StreamLIVE HD also offers an intuitive application that makes it easy to monitor, change image layouts and adjust PIP settings, and does not require the use of PC and software. In short, a transportable and easily installable solution to immediately realize streaming transmissions (increasingly in demand on the market).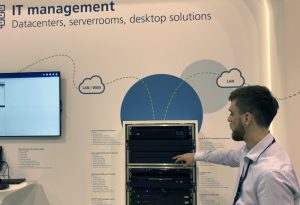 Another very interesting novelty of this ISE 2020 is CS1964, a four-port 4K Triple Display USB 3.0 KVMP switch, designed to easily manage a three-display multimedia workstation. "CS1964" – explains Kenny Wagemans – "can be connected to four PCs and via HDMI to three monitors, and is capable of supporting signals up to 4K DCI with a data transfer rate of up to 5 Gbps with a USB 3.1 hub Integrated Gen 1."
Not only that: with daisy-chain connection of two CS1964, you would get configurations with six displays, extending the multitasking application and improving the workflow. In short, CS1964 is an excellent solution for those who must use multiple systems and perform multiple tasks on extended desktops with three displays (financial trading applications, CGI, graphic design, but also control rooms, call centers, video post production and gaming).
"There are many application areas in which we are present with our products" – concludes Kenny Wagemans. "For example, Control Rooms market is very important for us, it usually requires different types of connections, so it's precisely the habitat in which our products best perform. Digital signage also is an important market for us."
ATEN's ISE proposal was completed by the ATEN Talks, which made their debut on the occasion of this edition of the fair: every day, several experts offered combined keynote sessions around different themes, all focused on integration and technologies. In particular, attention on HDBaseT: ATEN staff, as every year, was present in the HDBaseT stand, for speeches and sessions dedicated to a very felt topic in particular in the Corporate environment: the reduction of wiring in meeting rooms and auditoriums.
This post is also available in: Italian