33
The importance of secure server management is evident in the healthcare sector, which is rapidly adopting new technologies, making it vulnerable to cybersecurity issues. A product such as the Keyboard-Video-Mouse (KVM) switch offers a hardware solution for organising the secure connectivity and management of a group of computers or servers
According to the EU Cyber Security Agency, the number of attacks on healthcare institutions continues to grow across Europe. It's therefore necessary to organise the defense of data starting from the hardware level, and the best method is to limit physical access to the server room, implementing hardware monitoring and at the same time guaranteeing IT managers the flexibility to access servers from any position. Here is where a KVM switch can become vital. It's a product that guarantees secure access, control of multiple computers/servers from a single location, whether it is a LCD console integrated in the rack, a browser on a remote computer, a dedicated console or a centralised management software; and again, a KVM over IP switch offers remote access within a local or global network, activity surveillance and peripheral support.
ATEN offers several compelling KVM solutions, which ensure healthcare IT administrators can manage their server rooms and data centres from virtually anywhere, while ensuring full data security.
Let's look at the key products, starting with the KH1532A KVM switch, which centralises access to 32 servers and can only be used on-premises. With powerful features, including panel array mode, this switch is designed to make it easy to manage the entire server room.
Again to work only with on-site access, but with a built-in LCD console, here is the CL3884NW, which in addition to the usual KVM functionality supports instant multiple viewing, allowing not only the monitoring of four servers on a single display but also control with unlimited switching, with different multiple viewing modes (PiP, PoP, PbP, quad and custom). This is the perfect option to save space, as it's an all-in-one product; the option of cascading up to two levels, however, allows you to control up to 16 computers, with multi view mode up to 4 x 4.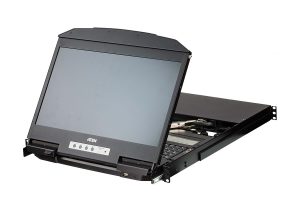 For access for various users, the first proposal is the KN8132V model which, in addition to the advantages of KH1532A, offers over IP remote connection. This switch supports FIPS 140-2 Level 1 security standards and allows up to nine IT managers to log in simultaneously to work on servers. By combining this product with a dedicated remote workstation, you can really minimise malicious access.
Similar to KN series products, the KL1116V LCD KVM Switch also supports high security standards and offsite access. LED light illuminates the keyboard and touchpad to allow visibility and operational efficiency even in low light conditions.

Control Centre Video Session Recording (CCVSR) is another innovative solution designed for real-time monitoring and backtracking of operations, plus the ability to view video of recorded operations and task lists, for track changes made to improve compliance control and auditing efficiency.
In short, in the face of growing risks for data security in the medical field, the many ATEN solutions to implement security and streamline workflows can be summarised in a single name: KVM switches. One for each application, just choose!
This post is also available in: Italian