130
They are available in the AGMultivision's catalog CablePort Desk2 80 and CablePort Table2, two new interesting solutions by Kindermann for desk connectivity
Two new solutions that exploit the holes for cables with standard 80 mm diameter, enrich the range of Kindermann CablePort products for desk connectivity and cable management in the workplace.
CablePort Desk2 80 is a revised version of CablePort Desk2 model with clamp and, like its predecessor, allows non-invasive installation on the work surface, fitting directly into the 80 mm cable hole. Even if the hole is not available, it's very simple to create specifically, without the need for expensive external interventions. CablePort Desk2 80 is available in two standard colors (gray RAL7015 and brushed aluminum) and two sizes that can accommodate respectively 8 or 12 individual fruits of Konnect Flex 45 clicks series, covering many connectivity needs of video, audio, data and power. CablePort Desk2 80 can also be oriented according to the needs and convenience. The outgoing cables from CablePort Desk2 80 can be grouped and organized, well exposed, with Kindermann Cable Snake solutions.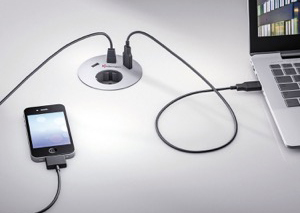 Even CablePort Table2 is a desk connectivity solution that fits directly into the 80 mm hole of the desk and immediately provides the connectivity of video, audio, data and power. It offers an earthed socket with a 3 m cable tail terminated with a standard male earthed plug, one HDMI A/V with female backside, a USB 2.0 port with type A female backside and a Cat6 RJ45 door, also with female back. Even CablePort Table2 can be quickly installed and is compatible with Cable Snake solutions for grouping and organization of cables in the workplace. The CablePort solutions can be purchased on the AGMultivision e-commerce site.
www.agmultivision.it
This post is also available in: Italian