81
The Italian stage of Panasonic Live Entertainment RoadShow, started in Birmingham, was held on the 12th December at Spazio MIL in Sesto San Giovanni, neatr Milan: a composite, stratified and very rich event.
All the solutions for live events: if we were to synthesize in a few words the fulcrum of the Panasonic RoadShow, we would use this phrase. Live Entertainment was explored in many aspects during the event, structured as an Open House – with products and solutions shown to the public – but enhanced by interventions and presentations, as well as live music. The goal of Panasonic is the growth of the Live Entertainment market, in collaboration with its partners BlackTrax and d3.


Among the solutions presented, particular attention was paid to the 4K technology applied to live events and mapping, and well illustrated by the intervention of Panasonic's Marketing Manager Hartmut Kulessa. On show, among others, the PT-RZ21K projector and the colossal PT-RQ32K model: the projection in 4K, in fact, is the basis on which to build a contemporary live event, also in combination with the new Panasonic's mirror head: digitally controlled mirrors able to move at different speeds to project images on any surface, even in motion. Also very interesting is the Panasonic 4K broadcast production platform, cameras + switchers for a complete 4K workflow. The AK-UC3000 and AK-HC5000 studio camera systems should be highlighted.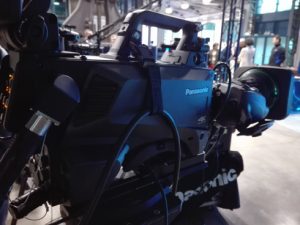 London-based company d3 Technologies presented its own gx range, media servers designed to improve content management, video rendering, audio, MIDI and tracking data for live events. Instead, BlackTrax presented its IR tracking solution, for the localization of objects within a space in real time, used for moving projection mapping and for the automatic control of broadcast cameras. A very interesting system for TV production, to avoid too complex lighting setup: the lights, as well as the background projections, automatically follow the presenter thanks to special sensors, in real time.


Hartmut Kulessa summarized the event: "The live event sector is constantly evolving. Our Live Entertainment Show is an interesting look, from behind the scenes, on how some of the most spectacular live events are created."
http://www.panasonic.com/it/
This post is also available in: Italian
You might also like
---
More from References
---
11
Occupancy Management Solution (OMS) is the newTripleplay and ONELAN proposal for the management of spaces in companies, schools, universities and …