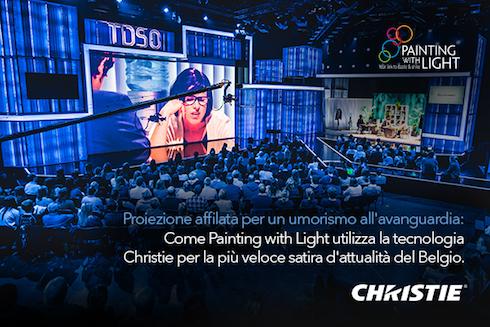 Why Christie Roadsters keep Belgium's fastest TV satire sharp.
Topical Satire is as big in Belgium as anywhere, and Tegen de Sterren Op (think Flemish Saturday Night Live) doesn't hold back. It serves up political commentary that's up-to-the-minute sharp.
All that slick humour demands a slick set, and at TDSO that meant Painting with Light designing two interconnected stages. The main stage has two projection screens: an electric roll-up screen when a narrow stage is needed, and an upstage screen for full-depth. Three Christie Roadster HD18K 1080 HD DLP Projectors are used; one for the front screen and a stacked pair for the rear – all Pandoras Box media server driven.
On a show where every recording starts with a creative session – and the director, video, lighting and sound all pitch ideas; that projection has to be rock-solid reliable and flexible enough to cope with anything thrown at it.
It simply has to be able to step up and perform.
Tags:
Christie
,
Christie Roadster