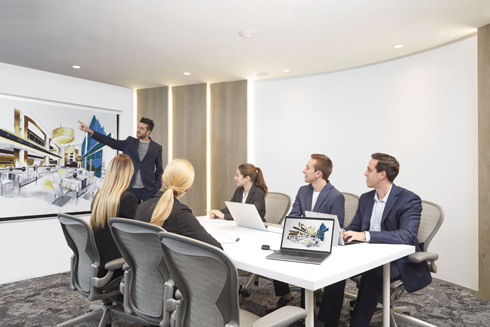 The goal is to facilitate and expand the immediate sharing of wireless presentations among the latest devices. The new InstaShow WDC10C adds new USB-C connectivity for instant wireless projection from laptops and USB-C PCs including MacBooks.
BenQ has launched the new USB-C connectivity solution for the InstaShow wireless presentation device. The new InstaShow WDC10C gives the possibility to apply the plug-and-play wireless projection features to many USB-C and Thunderbolt 3 devices, including MacBook and other PCs, thus eliminating installation problems and obstacles to collaboration in corporate meetings.
The new USB-C configuration also allows you to add Full HD 1080p video and 16-bit stereo audio streaming to any display device, supporting source devices with USB-C in DisplayPort Alt mode such as MacBook or PC without HDMI output.

The new USB-C transmitter is compatible with the previous InstaShow WDC10 receivers, so the kits can be easily added to the existing InstaShow configurations to achieve wireless projection. Not a minor detail, InstaShow is a device that guarantees absolute data security, with WPA2-PSK protection and 128-bit encryption.
"USB-C is a step forward in digital connectivity, from SuperSpeed + data transfers, to audio and video distribution, to power and fast charging, allowing device manufacturers to develop thinner and lighter designs", said Conway Lee, President of BenQ Corporation.
BenQ