Starting from the next, very important season, which will see Atalanta also involved in the Champions League for the first time in its history, and for the next six seasons, Gewiss will support the Bergamo Football Team.
Two great Bergamo realities unite in the sign of football, in the context of a wider program that aims to make Bergamo a great city, starting with the one that is the most recognizable and loved icon: Atalanta. It's on these premises that the partnership between Gewiss and Atalanta B.C. is born and that it will lead to the birth of the future orobic stadium, a futuristic structure that will have the name of GEWISS STADIUM.
The agreement between Gewiss and Atalanta is more than a sponsorship, and is rather the result of a journey that stems from the desire to make Bergamo an incubator of ideas and innovative projects that take shape and substance, to reach the most ambitious goals and to occupy the top of the ranking between Italian and European cities.
"We are proud and honored to have made our entrance on the most important stage of Italian sport alongside Atalanta", explains Luca Bosatelli, Vice President and CEO of Gewiss. "The decision to combine the name of Gewiss with Atalanta stems from the desire to further underline the link with our beautiful city and contribute to achieving the most ambitious sporting goals, both in Italy and in Europe. Bergamo and the Bergamo area deserve a modern, innovative and avant-garde stage where they can express their attachment to the team, living and breathing the wonderful emotions that only football and sport can give."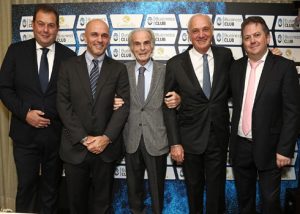 The agreement with Atalanta demonstrates the will of Gewiss to support athletes in sport. Indeed, Bosatelli concludes: "The path we have started with the Digital Sport Innovation project aims at the renewal of sports facilities throughout the country. We want to make our contribution to the growth of the Italian sports movement by putting our experience and our know-how at the disposal of all Italian sports federations, as we have already done with the National Amateur League, the National Basketball League and the National Hockey Federation, providing secure facilities and efficient where to practice sport."
Luca Percassi, CEO of Atalanta B.C., commented on the partnership: "We are very pleased to welcome Gewiss, which will officially become part of the Atalantine family starting from the 2019-2020 season. Gewiss will support our company in a project that is dear to all our fans: the redevelopment of the stadium."
As part of the partnership with Atalanta, Gewiss will therefore put its team of professionals and experts at the disposal of the orobic company to illuminate the field and the stands, as well as for the management, protection and distribution of energy in all internal and external areas of the future stadium.
Atalanta
,
Gewiss