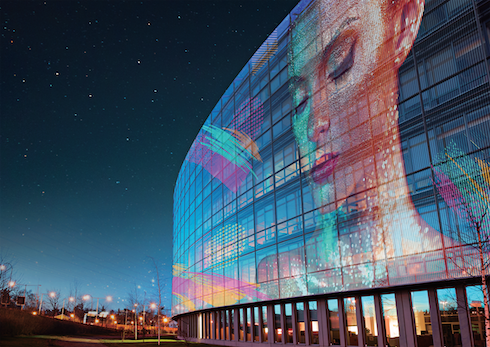 Forget traditional LED signage: LG Business Solutions' latest visual innovation combines the qualities of colour and transparency in a versatile technological solution that meets the most futuristic business needs.
Astounding digital signage is made possible by the LED Film technological revolution from LG. One of the most advanced products for commercial applications, this is the most striking, versatile, elegant and efficient solution designed especially for retail clients.
What do we mean by LED Film? It is a transparent film, applicable to any glass surface by means of a special self-adhesive material, which can be used for digital communication applications on a small, medium or large scale. It features a minimalist design and is suitable for any architectural style.
Enhance the shopping experience, starting with the shop windows
The 73% transparency of this new LG solution guarantees visibility through glass surfaces: a trait that makes it ideal for store windows, shopping centres, exhibition spaces or showrooms.
This is the concept behind the LAT240DTx LED Film, which features a 24 mm pixel pitch, 28×20 or 20×20 resolution and compatibility with curved surfaces. Creating this user-experience – markedly different from that of classic commercial systems – are the bright LEDs integrated in the film, which surprise and entice potential customers through the reproduction of an extraordinary range of colours and vivid moving forms. Logos, pictograms, complex images and entire videos – LED Film technology adapts to any type of communication without being cumbersome or "invasive". When theLEDs are not lit, LG's film is virtually imperceptible, so much so that it blends in with the surface to which it is applied.
LAT240DTx: amazing technology with simple installation
When speaking of films and transparencies, one could think of a solution as complex to use as it is impressive. Wrong: its simplicity of installation is one of the key characteristics of LED Film, which can be applied to existing glass surfaces without requiring complicated processing or renovation. The dimensions and layout of the LED film can be customised and modified in the event of subsequent installations, while it is possible to obtain a radius of curvature up to 1,100 R to adapt this LG solution to concave or convex applications, thus increasing its versatility.
"We are proud to present a technologically advanced solution that integrates seamlessly with existing surfaces and surrounding environments," explains Nicola Micali, Business Solutions Product & Marketing Manager for LG. While not focusing entirely on resolution, as with classic LED walls, this innovation adds a new level of visual impact to retail communication, maintaining the transparency of surfaces and transforming messaging into memorable experiences.
In other words, digital signage with LED Film really satisfies all the requirements of marketing and communication, as well as the practical needs of the retail world and the professionals who are involved in it on a daily basis.
digital signage
,
LED Film
,
LG Business Solutions