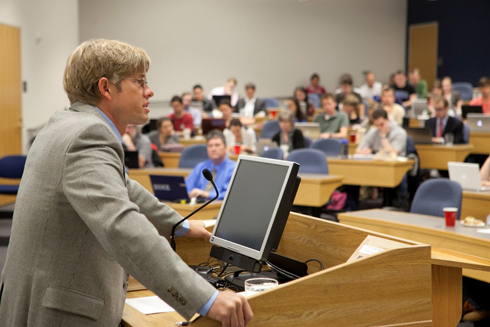 Matrox and Kaltura enhance the learning experience by combining an easy to use schedulable lecture capture appliance with powerful video management system.
Founded in 1820, Indiana University has eight campuses statewide, students exceeding 114.000, more than 20.000 faculty and staff members, and over 600 classes. For the last five years, the university has used hardware and PC-based software lecture capture systems to cover these classes. The systems were proprietary, difficult to operate and maintain, expensive (hence not every room was equipped for lecture capture), did not have media management, and lacked the ability to allow other video content to be integrated into their environment. Indiana University therefore decided to replace their lecture capture systems with a better overall solution that meets these evolving needs. The university was looking to build a low-cost, end-to-end solution for the needs of the different users. The administrators wanted easy-to-use, interoperable systems that required least maintenance efforts; the professors wanted to focus on teaching with minimal interaction with the systems; and the students wanted to access lectures to learn anytime, anywhere.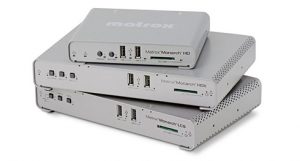 For video management, the Kaltura platform has been chosen, with its standard Open Capture support. The next step was to find a compatible encoder to replace the previous hardware-based lecture capture systems. Indiana University tested nine different solutions before choosing the Matrox Monarch LCS H.264 encoder.
This dual-channel system with frame synchronization is ideal for multi-stream needs and provides interoperability as it is based on open standard H.264 codec. With a low one-time investment and no annual fees, the Monarch LCS allows the university to expand the number of classrooms that have lecture capture appliances. The University also leverages the seamless integration between the Monarch LCS appliances and the Kaltura Lecture Capture software and video platform.
After the lectures are recorded (either locally to an SD card or USB attached storage), the Monarch LCS transfers the files over the network to Kaltura. An XML metadata file containing the video file names, length, professor's name, and other information that is displayed on the web page where the video is hosted is also uploaded. Kaltura transcodes the videos to different formats and resolutions, and automatically publishes them onto the university's Canvas learning management system to be viewed by different devices (Apple, Android, PC, Mac etc.). Students review the lectures from Canvas, which is a familiar and easily-accessible destination for them.
education
,
Indiana University
,
Kaltura
,
Matrox Monarch LCS