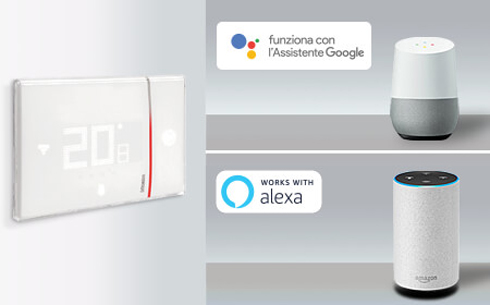 Even Google Home and Amazon Alexa can now manage Smarther, the BTicino connected thermostat with integrated Wi-Fi.
Implementation for Smarther, the always connected BTicino thermostat, with integrated Wi-Fi: from today it can be managed by Google Home and Amazon Alexa voice assistants. Smarther, as its name implies, is designed to offer "smart" management of the domestic climate: through a smartphone app, at home or remotely, it's possible to create customized programs, also achieving significant energy savings.
Characterized by an essential, very modern design, Smarther is available in two versions: for installation in a flush-mounted box (rectangular or round, for masonry or plasterboard) or on the wall, and offers a discreet but clearly visible display that integrates into all housing styles and all civil lines.
Boost, the exclusive function of Smarther, allows you to quickly get the desired comfort: heating or cooling for a limited time (30', 60' or 90'), regardless of the set profile and the ambient temperature. At the end of the set period, heating or cooling stops. The vertical band, red for heating and blue for cooling, indicates that the function is active and indicates the remaining time, in countdown mode.
From now on, it will be possible to control and regulate the temperature, as well as manually with the BTicino Thermostat App, also with the voice assistants Google Home or Amazon Alexa, both locally and remotely. Moreover, thanks to the App's geolocation function, the thermostat, when you leave an unplanned period from home, automatically sends a notification asking if you want to stop heating/cooling early. Each thermostat can be managed by different users by installing the App on multiple smartphones; in the same way, through the App it is possible to manage multiple devices in the same house or in different buildings.
In the absence of an internet connection, the thermostat carries out the set program. The BTicino Thermostat App can be downloaded for free from Google Play and Apple Store.
BTicino
,
smart home
,
termostato