The University of Lille develops its research and teaching potential thanks to Virtual Reality, and in particular to the structure created with Christie Mirage projectors.
With the installation of Christie Mirage 3DLP projectors at The Open Reality Experience (TORE), at La Plaine Image of Tourcoing, France, Virtual Reality takes a decisive step forward in the academic world. TORE consists of a three-storey structure specially designed and built by Antycip Simulation, with more than twenty Christie Mirage WU7K-M WUXGA 3DLP projectors that provide the substance of the visual experience. TORE is a fundamental installation for the Center for Visual and Cultural Sciences of the University of Lille, which brings together the iCAVS (Interdisciplinary Cluster for the Advancement of Visual Studies) and the Equipex IrDIVE technology platform (Innovation-research in digital environments and interactive visuals). The room where TORE is located allows an effective collaboration for prototyping, architectural visits, training, artistic creation and simulations. Antycip worked there with his partner Scalable Display Technologies, with the aim of creating a dynamic warping effect.

Together with Christie, Antycip Simulation has instead developed a customized on-screen structure and selected all the AV technologies and products to give life to the project, including computers, projectors, tracking systems and 3D glasses. Four meters high, eight meters wide and eight meters wide, the projection surface is made up of eight 30 mm thick curved acrylic elements, plus two other flat-shaped ones.
"We faced a series of extremely complex challenges", said Johan Besnainou, director of Antycip Simulation for France and Spain. "From the dimensions of the structure to the shape and rigidity, not to mention the homogeneity of the final result, it took all our experience and expertise to carry out the project with the quality specifications required by the customer."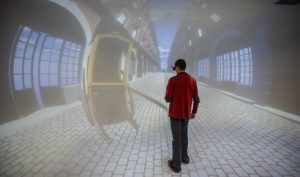 "Imagine a half-sphere screen, flattened on both poles; place it on a two-story superstructure; match it with twenty high-brightness stereoscopic projectors, add an enveloping sound and… voilà! TORE is the first space in the world capable of transporting users into a fully immersive 3D virtual space", said Yann Coello, SCALab laboratory director and Equipex IrDIVE coordinator.
Antycip has also developed its own real-time image generation software, MyIG, to provide highly detailed multichannel images for the University to be used in TORE and to maintain complete immersion of the viewer within virtual scenarios. Therefore, active 3D glasses were chosen and a tracking system capable of handling high resolution and high frequency content.
And lastly, the immersive feeling is completed by a surround sound system. In short, the University of Lille has a cutting-edge solution in Visual Science and Culture.
www.christiedigital.com
www.antycipsimulation.com
Tags:
Christie
,
Lille