The Italian market in the Internet of Things saw a record increase of 35% during 2018, reaching a total turnover of € 5 billion. A study by the Politecnico di Milano Internet of Things Observatory proposes figures and assessments. A remarkable +35% is the figure recorded, for 2018, by the Italian IoT market, demonstrating that […]
At InfoComm 2019 Yamaha announced the next generation of its YVC-330 portable USB and Bluetooth speakerphone, which showcases its new SoundCap audio technology for clear conferences in noisy open workspaces. The new YVC-330 speakerphone solves the problem of finding vacant rooms for spontaneous meetings, by eliminating background noise from noisy working environments. The SoundCap technology […]
Distributed by Prase Media Technologies, the Denon brand has two interesting innovations in the areas of media players and Bluetooth audio receivers. Let's start with DN-700CB, a new media player that stands out for its versatility, which adds RS-232C functionality and total network control. This Denon product allows you to listen to files from CDs, […]
Sorry, this entry is only available in Italian.
There are about one hundred Mersive Solstices Pods installed to simplify and protect the flow of information in the new management headquarters of BNL, an important Italian bank belonging to the BNP Paribas group. The new headquarters of the General Management of BNL in Rome covers an area of 75.000 square meters, in a building […]
Even the digital world is ageing: who would have thought 20 years ago that wireless networks would become fundamental to our daily lives? Wi-Fi has revolutionised the way we live, work and relate to our colleagues. And it is specifically on the professional domain that our brief reflection focuses, taking inspiration from a recent article […]
At InfoComm 2019 Sony presented its line of Full HD IP-based PTZ cameras with 70° viewing angle, NDI/HX functionality, optional 4K upgrade and integration with REA-C1000, the first Video Analytics Appliance based on IA of Sony. Sony has chosen InfoComm 2019 to present two new PoE+ cameras in addition to the IP-based range of PTZ […]
Living Now, simultaneously presented to 10.000 installers with a streaming event in cinemas throughout Italy in June 2018, celebrates its first year: a year of undeniable success, for this renewed line for design home automation. First of all, the innovative design, technical quality and ease of installation have been appreciated by Living Now. Certainly the […]
Sorry, this entry is only available in Italian.
Sorry, this entry is only available in Italian.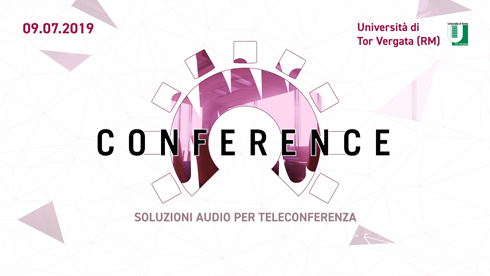 On July 9th, the University of Rome "Tor Vergata" will host a free training organized by Prase Media Technologies and dedicated to audio solutions for the Conference world. The training activity of Prase Media Technologies does not stop. An interesting free training session entitled "CONFERENCE – Audio solutions for teleconferencing" is scheduled for Tuesday 9 […]
Cloud service compatibility has been extended for Matrox Maevex 6100 series encoders, with the goal of improving the possibilities of live 4K Webcasts broadcasting. Matrox Maevex multi-4K enterprise encoders simplify cloud-based webcasting with YouTube, Facebook Live, Wowza, LiveScale, and more, to stream live 4K and HD video everywhere. Matrox Graphics announced that its Matrox Maevex […]
New high-integration VMS from Panasonic security: Video Insight offers greater user benefits and unprecedented flexibility. The Panasonic Video Insight solution is a high resolution VMS that offers advanced features and flexibility through a rather simple and intuitive interface. Created as a response to the need for companies to adopt an efficient video surveillance system that […]
The second edition of Network AV Training, a training event signed by Prase Media Technologies, will be held on June 21 at the "Tor Vergata" University of Rome. The calendar of events dedicated to training organized by Prase Media Technologies is very rich, and a significant event is certainly scheduled for Friday 21 June 2019, […]