The message that emerges from the participation in ISE 2019 of Montarbo is very clear, beyond the presentation of new products: "we are there", they say in unison Simone Giacchetti and Davide Fabbietti, representing the new face of a historical brand of Made in Italy audio.
Elettronica Montarbo is a name that immediately identifies itself as "Made in Italy." The company, after a period of tarnishing, is back on the market, as part of the wider Eko Music Group, which holds the brand. We were able to talk to the Montarbo men in the field at ISE 2019, and the COO Simone Giacchetti was clear: "There is a great desire to show that we are there, that the company is ready to compete in the modern times. Eko Music Group has made huge investments, above all has invested in the most valid heads for the technical team, and investing in people is the best guarantee to lay the foundations of the near future as in the long run."
And here is also the voice of Davide Fabbietti, the new Senior Technical Sales Support of Elettronica Montarbo, he co-ordinator of the company's research and development teams. "Our idea" – he said – "is to propose cutting-edge solutions that can be controlled with tablets and modern mobile devices. We have already planned the next four years, we want to be absolutely inside these times and inside the market. Unlike other companies, we have several R&D departments, not just one. Each one follows his own path, so we find ourselves in a round table from which we come out with shared ideas among the various departments. Also with regard to quality control, we have very high standards. We check in incoming, that is, the individual parts of the products that come from the manufacturers are checked to be consistent with the specifications, and specific controls are carried out during assembly. Finally, the finished product is tested for 30 hours in special rooms. Only after these steps the speaker is packaged and sent. In this way we are able to guarantee quality."
And here again Simone Giacchetti, which gives us confirmation of what we had already guessed: "Made in Italy" – he said – "remains one of the focal points of our work. All our suppliers are located within a radius of 50 kilometers from our headquarters. Many markets, in particular North Africa and the Middle East, are very fond of Made in Italy, and also Asia, in particular India, is giving us excellent results."
But ISE is above all a great stage for technological and product innovations, so we did not miss the opportunity of a brief overview of the Montarbo news for 2019. "This year" – Davide Fabbietti has told us – "we presented the new series Wind Pro and Earth Pro, which already have Dante on board and, on the same network connection, allow you to control DSP, equalization, levels, delay, all thanks to our M-Connect software, with which you can generate groups of controls. Every single device is set – whether it's a speaker, an amplifier or a processor. Then you can create controls that act upstream on each spraker and on each device."
Both Wind Pro and Earth Pro are high-quality series. The Wind Pro models are equipped with a coaxial woofer, a driver and another additional woofer to reinforce the dynamics in the mid and low frequencies. The series is developed on four products: 208A, 210A, 212A and 215A.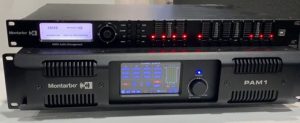 Earth Pro instead offers subwoofers that complete the Wind Pro series of speakers. The new models presented at ISE are Earth Pro 115 and 118. Last but not least, the new AM48 audio processor and the new 4-channel PAM1 amplifier with touch screen, all controllable by the M-Connect proprietary software.
In short, an ISE 2019 that for Elettronica Montarbo is certainly the tangible sign of a great restart.
Elettronica Montarbo
,
ISE 2019