AV Experience Area, organized by Connessioni with UX-Men in collaboration with MIR, will be a balance between a demo area and a classroom: it will feature innovative, integrated AV solutions and will be the stage for courses, seminars and events for and about systems integration every day during the entire event.
There are just two days until the opening of MIR in Rimini, the fair that boasts AV technologies in all their applications and the possibility of seeing and testing state-of-the-art solutions in real and realistic contexts as its strong points. AV Experience Area will be located in pavilion C5 and will be organized thanks to the contribution of solutions from E-Home, ModsArt, Safe and ScreenLine, with the patronage of AVIXA and SIEC, with the support of the Order of Architects and the College of Experts (Periti) and Surbeyors, which are offering continuing education credits for their members. A series of educational offerings of various subjects which will be of interest both for more technical individuals and professional end-users, offered within a real, functional multimedia area. Guided tours led by UX-Men will be organized every day for them in particular, in order to understand the benefits and obtainable results with today's technology.
To see the complete program, register and read the profiles of the speakers:
Download your free ticket online!
1) Go to the site www.musicinsiderimini.it/ticket
2) Register and login to the area reserved for visitors
3) Enter the code F1RIV and print your ticket
We will be in Rimini…we're waiting for you!
en.musicinsiderimini.it/info/focus/integrated-system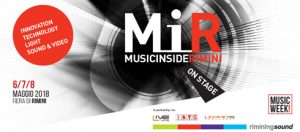 Tags:
AV Experience Area
,
Connessioni
,
MIR 2018
,
Ux-Men