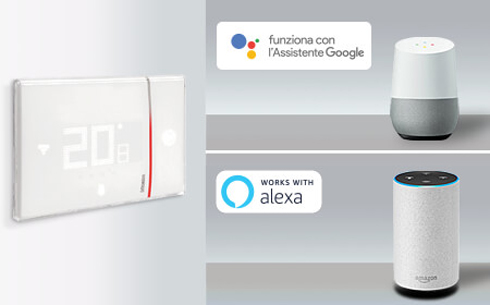 Even Google Home and Amazon Alexa can now manage Smarther, the BTicino connected thermostat with integrated Wi-Fi. Implementation for Smarther, the always connected BTicino thermostat, with integrated Wi-Fi: from today it can be managed by Google Home and Amazon Alexa voice assistants. Smarther, as its name implies, is designed to offer "smart" management of the […]
For the first time in Italy, in the Residenza Anziani Villa San Bernardo in Parma, a completely wireless nurse call system was installed. A completely wireless Legrand call system, distributed by BTicino, was chosen for the technological update – strictly non-invasive – of Villa San Bernardo, in Parma, active for 34 years, together with the […]
Living Now, simultaneously presented to 10.000 installers with a streaming event in cinemas throughout Italy in June 2018, celebrates its first year: a year of undeniable success, for this renewed line for design home automation. First of all, the innovative design, technical quality and ease of installation have been appreciated by Living Now. Certainly the […]
Sorry, this entry is only available in Italian.
The new Living Now civil line by BTicino, recently presented, is able to transform every system into a "smart system" without changing the wiring and installation methods. Living Now is installed on the standard boxes available on the market, and this is – in our opinion – its main strength; therefore, it's not a roaring […]
Sorry, this entry is only available in Italian.
Sorry, this entry is only available in Italian.
At Arco di Trento, the rehabilitation center "Villa San Pietro" chose BTicino solutions to protect its guests and to maximize the staff efficiency Codess Sociale, cooperative that assists 3.500 people throughout Italy, ushered in Arco di Trento a psychiatric rehabilitation center approved with local governments and local health authorities of the Trentino Region. Codess Sociale […]
(Italiano) Si terrà a Catania, lunedì 13 Maggio presso Etnapolis, la prossima tappa del tour promosso da BTicino per presentare ad installatori e clienti l'offerta completa delle sue soluzioni per il terziario.
Introduced by BTicino a new 10″ multimedia touch screen designed for control and management of the home systems.
(Italiano) Conferiti i riconoscimenti agli installatori My Home Team che hanno elaborato e realizzato i migliori progetti di impiantistica domotica.
Sfera New and Sfera Robur are the new 2-wire AV external units of door entry and video door entry system lineup by BTicino.
Legrand Group announces the acquisition of Aegide, market leader in VDI (Voice, Data, Image) cabinets for data centers in the Netherlands.
(Italiano) Il catalogo BTicino presenta un'ampia offerta rivolta alla realizzazione di soluzioni impiantistiche in case di riposo, ospedali, cliniche, strutture di degenza e ambienti ad uso sanitario…
(Italiano) Si è svolto nell'area FME il workshop a più mani dal titolo "Eco building", con interventi di Gewiss, BTicino, ABB, Siemens – Una carrellata di tecniche, modalità e suggerimenti su come aumentare l'efficienza energetica negli edifici.